SOLO EXHIBITIONS
2020: TYPO, Wroclaw Formats Club, Wroclaw
2020: Exhibition of one small form, Non Lo So by Winoteka, Wroclaw
2020: Printing House Otwarta12, Innovator Club Foundation, Wroclaw
2019 – Premiere of 1 illustration made for CHARAKTERY EXTRA magazine
2019 – Premiere of 2 illustrations made for CHARAKTERY EXTRA magazine
2018: INKGRAPHIC, Agatka's Gallery / Tamka Island, Wroclaw
COLLECTIVE EXHIBITIONS
2021: DNA Kobiet, Gallery DNA, Sky Tower, Wroclaw
2021: PINK OR BLUE? Agatka's Gallery / Tamka Island, Wroclaw
2020: Magic.All. Next Edition of the exhibition: Artists of Wroclaw. AC Hotels by Marriott, Wroclaw
2019: ART BASEL ART WEEK MIAMI, The ARTBOX.PROJECT Miami 2.0 at the MIAMI ART WEEK, Wynwood Art Gallery 2065 NW 2nd Avenue, Miami FL 33127, USA
2019: 7th International Socio-Political Poster Biennale, Creative for Human Rights, Austrian Cultural Forum, Project partner: Fundacja im. Rose of Luxembourg, Warsaw
2019: BWA Wroclaw, Masters Studio: Rajkowska – Overview, Galeria Studio BWA, Wroclaw
2019: ARTBOX.GALLERY Zürich, Switzerland
2019: 7th International Socio-Political Poster Biennale, Creative for Human Rights, The Jewish Cultural Centre – the Judaica Foundation, Krakow
2019: 7th International Socio-Political Poster Biennale, Creative for Human Rights, House of Culture Wiktoria Kubisz, Bielsko-Biala
2019: Big Awards at CAGE Gallery, Top 30 finalists in the BIG Awards competition, Barcelona, Spain
2019: International Contest of Visual Art Name's CASSUBIA VISUALES, Dom Ludowy, Bialogora
2019: International Contest of Visual Art Name's CASSUBIA VISUALES, Rybaczowka, Debki
2019: 7th International Socio-Political Poster Biennale, Creative for Human Rights, IG Metall, Wolfsburg, Germany
2019: 7th International Socio-Political Poster Biennale, Creative for Human Rights, Federal Foreign Office, Berlin, Germany
2019: 7th International Socio-Political Poster Biennale, Creative for Human Rights, Theater of Arts, Jaworzno
2019: 7th International Socio-Political Poster Biennale, Creative for Human Rights, Metropolitan Andrey Sheptytsky Center, Lviv, Ukraine
2019: Winter Salon 2018, Gallery Stalowa, Warsaw
2018: 7th International Socio-Political Poster Biennale, Creative for Human Rights, Roman Ivanychuk Lviv Regional Library for Youth, Lviv, Ukraine
2018: International Contest of Visual Art Name's CASSUBIA VISUALES, Museum of Literature and Music Kashubian-Pomerania, Wejherowo
2018: 7th International Socio-Political Poster Biennale, Creative for Human Rights, Gallery Epicentrum, Chelmek
2018: International Contest of Visual Art Name's CASSUBIA VISUALES, Factory of Culture, Reda
2018: 7th International Socio-Political Poster Biennale, MDSM, Creative for Human Rights, Oswiecim
2018: II Review of Contemporary Art New Avant-garde, Gallery Szyb Wilson, Katowice
AUCTIONS & EXHIBITIONS
2020: 39 Young Art Auction, Gallery and Auction House XANADU, Warsaw
2020: 38 Young Art Auction, Gallery and Auction House XANADU, Warsaw
2020: 36 Young Art Auction, Gallery and Auction House XANADU, Warsaw
2020: Charity auction for the Lower Silesian public benefit organization: Ekostraz. AC Hotels by Marriott, Wroclaw
2019: 32 Young Art Auction, Gallery and Auction House XANADU, Warsaw
2019: 31 Young Art Auction, Gallery and Auction House XANADU, Warsaw
2019: 31 Young Art Auction, Gallery and Auction House XANADU, Warsaw
2019: 23 Young Art Auction, Collective Exhibition, Gallery NEXT, Bydgoszcz
2019: Summer Online Auction, Gallery STALOWA, Warsaw
2019: 22 Young Art Auction, Collective Exhibition, Gallery NEXT, Bydgoszcz
2019: XXXIX STALOWA Current Art Auction, Gallery STALOWA, Warsaw
2019: Spring Internet Auction, Gallery STALOWA, Warsaw
2019: 25 Young Art Auction, Gallery and Auction House XANADU, Warsaw
2019: XXXVIII STALOWA Current Art Auction, Gallery STALOWA, Warsaw
2019: V Stationary Young Art Auction, Gallery POPART, Poznan
2019: Exhibition, Winter Salon 2018, Gallery STALOWA, Warsaw
2018: XXXVI STALOWA Current Art Auction, Gallery STALOWA, Warsaw
2017: Malta Festival, 27th Edition, Malta Foundation, Poznan
SELECTED ART FAIRS & FESTIVALS
2017: Malta Festival, 27th Edition, Malta Foundation, Poznan
AWARDS
Pfishova's work has been chosen to feature in Singulart collection: Contemporary Polish Art
2019 – Top 30 finalists in the BIG Awards competition. Barcelona SWAB Art Week. Big Awards Collective Exhibition at CAGE Gallery, Barcelona, Spain
2018 – Distinction in the International Contest of Visual Art Name's CASSUBIA VISUALES 2018, Reda, Poland
2018 – 7th International Socio-Political Poster Biennale, MDSM, Creative for Human Rights, Prize Chairman of the Association of Polish Artists and Designers: Understand Autism, Oswiecim, Poland
2018 – II Review of Contemporary Art New Avant-Garde, Gallery Szyb Wilson, Katowice, Poland
EDUCATION
2011 Graphic Design, Academy of Fine Arts in Gdansk, Poland
2008 Acting and Pantomime in Wroclaw, Poland
2005 Fashion Design in Wroclaw, Poland
2001 Care and Educational Pedagogy in Slupsk, Poland
Pfishova to artystka urodzona na Kaszubach (Polska). Ukończyła Akademię Sztuk Pięknych w Gdańsku. Studiowała projektowanie mody i aktorstwo we Wrocławiu a także na wydziale filozoficznym PAP. Jej fascynacja strukturalną naturą, znakami graficznymi, wczesnymi formami pisma i typografią oraz ich rolą i znaczeniem w życiu człowieka ukierunkowały jej dalsze poszukiwania artystyczne. Od tego czasu znaki i struktura stały się motywami przewodnimi wiodącego w jej twórczości tematu, jakim jest życie. Prace Pfishovej eksplorują nieskończony cykl istnienia poza czasem i przestrzenią.
Artystka kontynuuje swoje dotychczasowe doświadczenia malarskie pracując równolegle nad trzema wiodącymi cyklami malarskimi od 2015 roku. Wciąż wzbogacając ich strukturę dodając elementy fizyczne a więc nie tylko o specjalne techniki nakładania farby na płótno, ale także bardziej symbolicznie balansując pomiędzy sensualnym dotykiem w czasie tworzenia a łączeniem malarstwa z rzeźbą – tak powstaje seria: Planet Recycled Art: Bez Sieci Bez Plastiku, która nabiera charakteru sztuki zaangażowanej łącząc dwa nurty Recycled Art i Land Art. Od 2019 roku pracuje nad serią THE MIRROR THEORY.
Artystka jest zdobywczynią nagród: Top 30 finalists in the BIG Awards Competition Barcelona SWAB Art Week w Galerii CAGE w Barcelonie (2019), Distinction in the International Contest of Visual Art Name's CASSUBIA VISUALES Reda (2018), 7th International Socio-Political Poster Biennale, MDSM, Creative for Human Rights, Prize Chairman of the Association of Polish Artists and Designers: Understand Autism, Oświęcim (2018), Collective Exhibition in Gallery Szyb Wilson. II Review of Contemporary Art New Avant-garde, Katowice (2018). Obecnie mieszka i pracuje we Wrocławiu.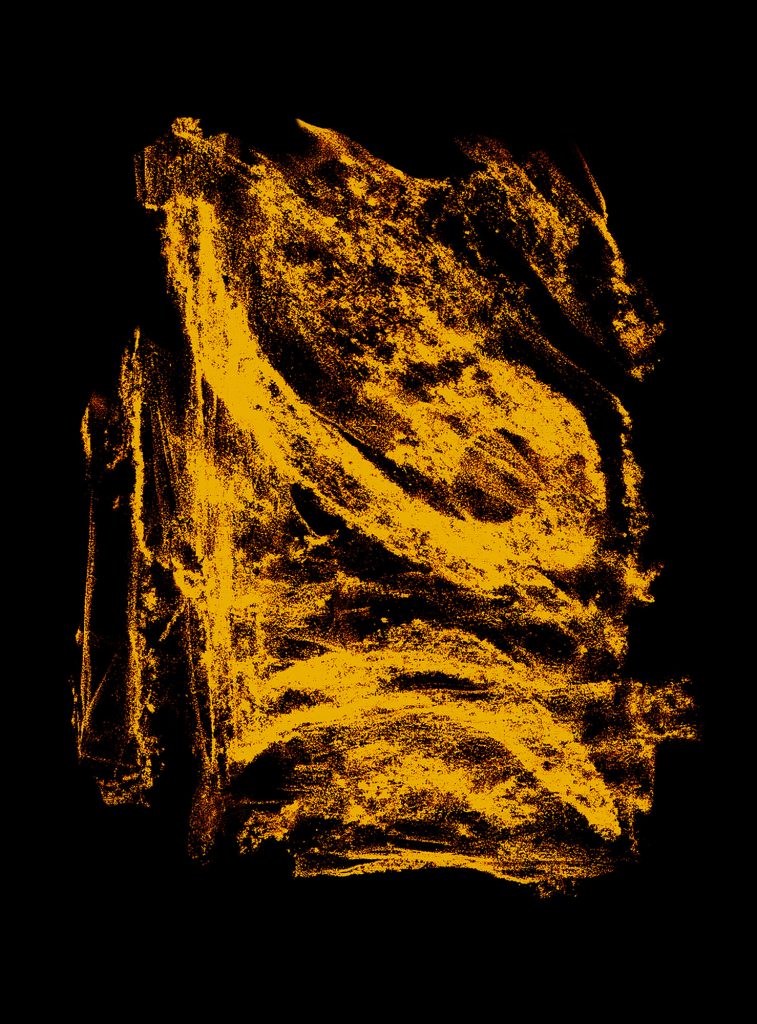 "Na moją twórczość bezpośredni wpływ mają moje osobiste doznania sensoryczno-sensualne, które przez całe życie odgrywają niestety ogromną rolę w moim postrzeganiu świata a także w moim funkcjonowaniu częściej nie funkcjonowaniu w nim. Moje prace to zdecydowanie dominująca czerń i biel jako interpretacja światła i ciemności. W świecie duchowym czy wewnętrznym doszukujemy się światła, które dla mnie jest dobrem, łagodnością, spokojem czy miłością zaś ciemność reprezentuje skrajnie odmienne wartości. U większości ludzi również w świecie fizycznym dzieje się podobnie a więc łakniemy światła dzięki któremu żyjemy. I dla mnie, słońce jest ważne jako nośnik pozytywnej energii, jednak w moim świecie zbyt mocne światło czy inaczej nazwijmy to zbytnia jasność bądź inaczej mówiąc oślepienie sprawia mi wręcz fizyczny ból, zaś ciemność często daje ukojenie moim zmysłom i fizycznemu ciału. Absolutna abstrakcja i absurd istnienia, łaknąć światła w sobie i dookoła siebie zarazem ukrywać się przed nim. Dlatego moja sztuka mówi czernią i bielą tak jak świat widzą moje oczy i odbierają moje zmysły – silnie kontrastowo, czasem boleśnie, w ukryciu, w cierpieniu czy w dosłownej uldze psychiczno-fizycznej. Zmierzch jest więc dla mnie swoistym ukojeniem i zdecydowanie lepiej funkcjonuje mi się właśnie wieczorem i nocą. Do całej tej absurdalnej sytuacji dokładają się migrenowe bóle głowy, które są ściśle powiązane właśnie z ingerencją światła, którego nagła emisja czy zbytnia częstotliwość jest w stanie wywołać atak migrenowy z silnymi aurami, które… właśnie dostarczają mi kolejnych efektów specjalnych w postaci wielogodzinnych czasami wielodniowych bólów głowy plus intensywne migające w oczach poświaty w różnych kształtach mrugające z ogromną prędkością w postaci jasnego bardzo nieprzyjemnego światła na tle ciemnego obrazu który postrzegam w głębi. Wówczas pojawia się przeciążenie sensoryczne wywołujące następujące reakcje: silny światłowstręt, fotofobia i konieczność odizolowania się od wszelkich źródeł światła i niemożność normalnego funkcjonowania (prowadzenie czy jazda samochodem, chodzenie, praca), fotofobia, nadwrażliwość na silne zapachy, allodynia. Czasami atak migreny poprzedza kilkusekundowa absolutna ciemność bądź absolutna jasność. Temat dla mnie trudny jednak jest wiodącym motorem moich prac malarskich i w kontekście tematu jest mi organoleptycznie i sensorycznie dosłownie bliski. Dodam, że w momencie przejścia z pory dziennej w porę zmierzchu gdy robi się szaro moje oczy przechodzą okres adaptacji znacznie wolniejszy i mniej "sympatyczny" i oczekiwanie na wieczór, ciemność jest tęsknotą i ukojeniem."